In four years of headship, I've always been interested in strategic direction and that interest came from the dissonance between knowing that it is important combined with not doing it well enough nor seeing an example that made me want to use and develop.  I would spend time on the format of the strategic plan and muse on the difference between milestones, success criteria and other fancy terms.
For this round of strategic planning, I was determined to do it better than I had before.  I had experienced a lot of noise in doing this before and wanted to simplify the whole process.  The first thing I decided to do was to align the strategic planning process with the financial year instead of the academic year to better align funds available with strategic priorities.  I also decided to extend the time frame for strategic planning from one to three years.  My school is settled and entering a new phase of school improvement – no longer in the rescue phase and now aiming to move from reinforcement to refinement.
Then I read.  A lot.  And I came across this article by the Ambition Institute, the work by Vivianne Robinson and by Matthew Evans.  It was divine timing.
What persistent problems should the school seek to address?
---
The term persistent problems comes from an article by Mary Kennedy, Parsing the practice of teaching, applied by the Ambition Institute to school leadership.  They described them as universal, unavoidable and implicit – no matter the context of the school or the expertise of the leaders, they'll need to be solved.
The process for the creating the next iteration of our strategic plan began with senior leaders considering, within the remit of their roles, the persistent problems that we face.  After using the article to explain what persistent problems are, I presented them as satisfying one or both of two criteria:
Aspects of school leadership that we need to do better
Aspects of school leadership that are too important to not focus on (whether we do them well or nor)
Leaders used good old post it notes and we compiled our collective thoughts, resulting in a table full of around 50 things.  Each time, the leader justified its inclusion and perhaps edited some wording after thinking aloud.
50 was too many and this was only the initial step.  We then started grouping the ideas into clusters that were related, ending up with 6.  Now it was time to consider the views of other school leaders so I revealed the Ambition Institute's seven persistent problems:
setting direction and building alignment
Enlisting staff contribution and ensuring staff development
Organising and staffing the curriculum
Attending to pupil behaviour and wider circumstances
Diagnosing, prioritising and managing resources effectively to build and implement strategy
Managing an effective and efficient organisation / administration
Developing personal expertise, self regulation and resilience
After comparing what we came up with and the work from Ambition, we settled on the first draft: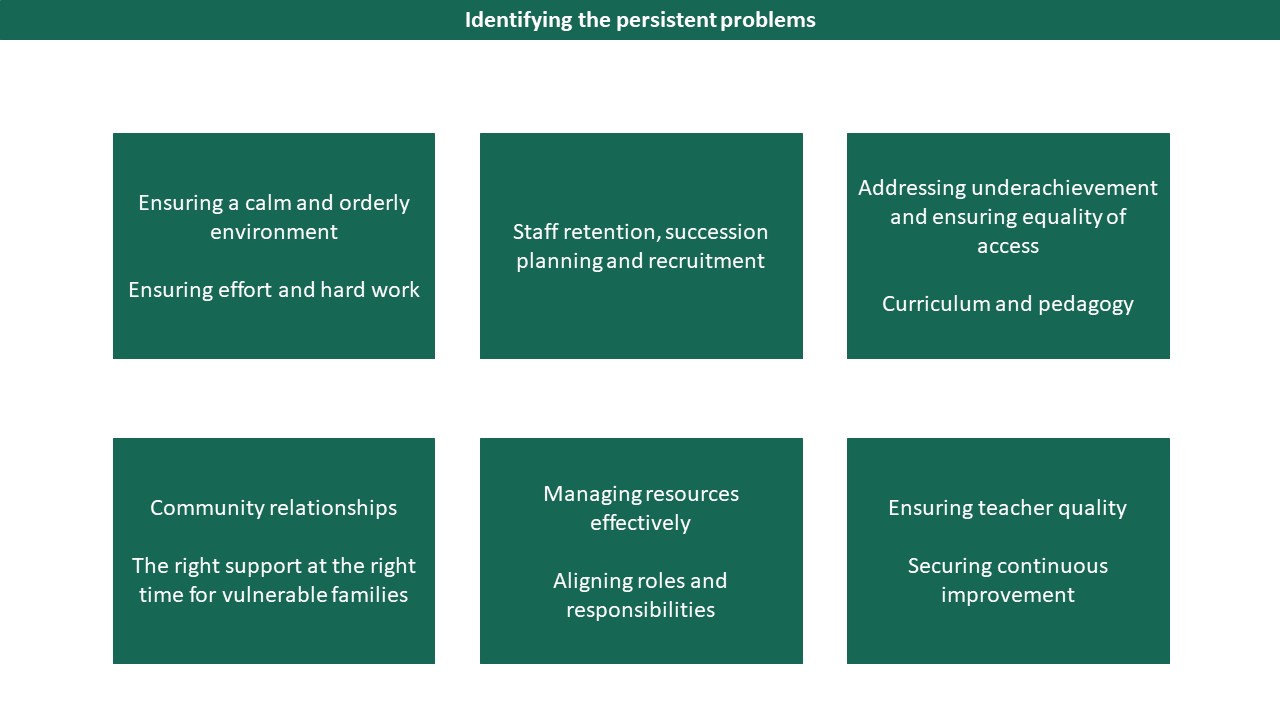 It was reassuring to be along the same lines.  Leaders left that session having thought hard about our strategic direction.  They had contributed significantly to it but there were more stakeholders to have their voice heard.  Leaders were tasked with chairing discussions, just as we had, with teachers, support staff and parents.
Engaging the wider community
---
Before we started looking at solutions to the persistent problems that we identified, we wanted to know if we were paying attention to the right problems from the perspectives of everyone else.  The aim was also to ensure that everyone had their say on the direction that the school would take.  Reassuringly, the vast majority of what we'd discussed was also identified by teachers and support staff.  We framed the discussion in a similar way, setting out criteria as above but added another scaffold to focus thinking.  We asked them to name an aspect of school life that could be better or is too important to take our collective eye off and then describe how they wanted it to be.  This went some way to ensuring that we thought about direction rather than what might have happened that day.
The process was repeated in a similar way with parents.  The chairing of that discussion to keep it future focused was more of a challenge because what is important to parents is often down to their own child's experience.
Describing the future
---
We were at the stage now where we'd agreed the strategic priorities based on the persistent problems that we were trying to solve.  This was beginning to take the form of a strategy document – an description of what our school will look like in the next few years.  Leaders got together once more and looked to list the conditions that we'd be working in if we had solved the problems that we had identified.  The result was this:
Ir was the governors' turn next.  I'd arranged a strategy session as part of an FGB to support governors to genuinely carry out their 'setting strategic direction' responsibility.  Leaders described the process and what we had distilled from all the discussions.  This was incredibly valuable because the process had started as strategic with senior leaders, took into account the experiences of other stakeholders and now had to return to strategic level again.  With governors' input we were ready for the final draft of a strategy document, one that sets the direction of the school for the next few years, that protects the school from unnecessary change if there were to be significant changes in leadership.
Vision and values
---
The final piece of the strategic puzzle was to check if our vision and values were still valid.  We thought about whether our strategic priorities matched with that overall aim for the school.  We considered whether our values were for purpose in enacting the strategic priorities.
So here it is and I hope you find it useful.
Next steps
---
Agree on key performance indicators for each strategic priority and quality assurance methodology (blog part 2)
Strategy selection and strategic resourcing (blog part 3)
Implementation planning (blog part 4)